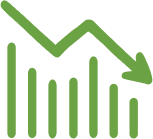 You can have your company's energy costs optimised today. We take a comprehensive approach to improving energy efficiency. We help you choose the optimal products and the best energy and gas retailers. We provide you with expert advice when preparing your Request for Quotation and the Terms of Reference (ToR).
Why perform electricity cost optimisation with PowerOn?
PowerOn guarantees:
a free consultation,
documentation, energy and infrastructure audits,
development of specialist analytical reports,
to guide you through all the formalities,
help in choosing the best products and the best energy and gas retailers,
energy consultancy.
Main advantages of energy cost optimisation:
Savings of up to several tens of %
Up-to-date and professional knowledge of the market and the latest solutions
Total control and awareness of energy costs
FREQUENTLY ASKED QUESTIONS
Co to jest optymalizacja kosztów energii?
Optymalizacja kosztów energii elektrycznej to usługa polegająca na przeprowadzeniu dokładnej analizy wszystkich punktów poboru energii pod kątem zapotrzebowania na energię i wskazaniu działań redukujących koszty.
Co oferuje PowerOn?
Optymalizacja kosztów zużycia energii elektrycznej realizowana jest także poprzez skuteczne zarządzanie energią. W tym zakresie podejmujemy się opracowań specjalistycznych raportów analitycznych, zbieramy najświeższe informacje o rynku energetycznym oraz gazowym.
Wykonujemy plany dotyczące zapotrzebowania na energię, w których uwzględniamy przyszły rozwój i wszelkie unowocześnienia.
Skuteczna poprawa efektywności energetycznej możliwa jest także dzięki przeprowadzanym przez nas audytom. Wykonujemy profesjonalne audyty dokumentacji, infrastruktury oraz audyty energetyczne.
Dzięki analizie dokumentów (wydanych warunków, umów, faktur) jesteśmy w stanie zoptymalizować koszty energii elektrycznej, obierając najkorzystniejszą ścieżkę, adekwatną do potrzeb klienta. Przegląd infrastruktury pozwala nam na precyzyjne określenie wymagań stawianym dostawcom energii a dzięki wykonywanym przez nas audytom efektywności energetycznej masz możliwość uzyskania dotacji na modernizację swoich maszyn oraz uzyskanie ważnych certyfikatów.
Już dziś zgłoś się do nas – optymalizacja kosztów energii elektrycznej to nasza specjalność! Nasza doświadczona i kompetentna kadra podejmie się nawet najtrudniejszych wzywań, znajdując zawsze najlepsze rozwiązania.
Na co zwracacie szczególną uwagę?
Przykładamy szczególną uwagę do analizy możliwości optymalizacji kosztów dystrybucyjnych, gdzie można uzyskać znaczące oszczędności bez ponoszenia nakładów inwestycyjnych.
Konstrukcja rynku energii elektrycznej znacznie ogranicza zmianę firmy świadczącej usługi dystrybucji (monopol lokalny), natomiast odbiorca, w ramach zapisów taryfy OSD, ma swobodę kształtowania parametrów wpływających na koszty dystrybucyjne.
Koszty dystrybucji stanowią średnio 30-40% wysokości faktury za energię elektryczną. Istotne jest, aby dobrać parametry umowy z Operatorem Systemu Dystrybucji w optymalny dla odbiorcy sposób.
Z naszych doświadczeń wynika, że średnie oszczędności po audycie oraz przeprowadzonym czynnościom optymalizacyjnym sięgają średnio 20% kosztów dystrybucyjnych, a w wybranych przypadkach udaje nam się obniżyć koszty dystrybucji nawet o 70%.
Nasze działania polegają na cyklicznej optymalizacji i kontroli profilu energetycznego w ramach taryfy OSD.